SCHEDULE:
Cove Pool: 9:00AM-8:00PM
Cove Bar & Grille Open Saturday & Sundays 12pm-5pm
Resort Outdoor HotTub: Open Year Round 8:00AM - 11:00PM
Outdoor Resort Pool: 9:00AM - 9:00PM
Indoor Pool and Hot Tub: Open Year Round 8:00AM - 10:00PM
Like our neighbor the Atlantic Ocean, all our pools are Salt Water.
Outdoor Resort Pool
Our Outdoor Adult infinity Pool overlooks the vast never ending Atlantic ocean. With a sweeping view of cold blue, wading in our comfortable 80 degree heated pool is endless. This particular pool only allows the ages of 13 and up, June 1 - September 8. The hours of availability are from 9AM – 10PM. This pool includes a beach entry as well as a numerous chairs to lay dock side. Our pool crew is ready to assist with any questions as well as to make sure the rules and regulations of the pool are enforced. In addition, all property pools are reserved for guests only. Like our fellow Atlantic Ocean our pools are all Salt Water.
Resort Fee under "Cliff House Rules" states pool information with dates for 13+
Outdoor Hot Tub
Beside our outside infinity pool is our outside fully heated outdoor hot tub. Open year round this warm tidal pool has been comforting our guest during rain, shine & snow. Overlooking the Atlantic Ocean it is a perfect spot to relax and let stress wash away. Even during the winter season there is a heated pathway for your convenience. Like our fellow Atlantic Ocean our Hot Tubs are all Salt Water.
Outdoor Cove Pool with The Cove Bar & Grille
Anchored right behind Cliff Top is our Cove Pool which is open from 9AM - 8:30PM. This body of water welcomes all ages! Enjoy our infinity pool which looks over the Atlantic Ocean and the Rocky coastline of Maine towns such as Well's and Kennebunkport. Like our fellow Atlantic Ocean our pools are all Salt Water.
The Cove Bar & Grille - Join us from 12PM - 5PM for a bite to eat and a signature cocktail on the cliff!
Your exclusive, private poolside experience awaits. Take relaxation to a whole new level by reserving in the best seat in the house. Our private cabanas and day beds offer unparalleled experience perfect for couples or families.
Cabanas are outfitted with a set of sectional couches and two chaise lounges for your comfort as well as a table perfect for entertaining. Additionally, each cabana offers complimentary WiFi access. Your private oasis also offers personal charging stations for your devices. Towel services are offered by our recreation team and a dedicated pool server is available for any of your food and beverage needs. Cabanas are perfect for 4 people and are offered at $275 rental for the full day.
Our day beds are perfect for anyone seeking a relaxing poolside escape. Each day bed reservation includes a dedicated server and recreation towel replenishment as needed. Day beds are perfect for two people and are offered at $95 rental for the full day.
To Reserve your Cabana or Day Bed, please call (855) 867-0946 Ext 1,1. Please select option 1 for Reservations followed by option 1 existing Reservations to be connected
Cancellation policy: 72hours prior to arrival in cabana pending and emergency situations. All foul weather days in accordance with a full day 9am to 8pm will not be charged and we will not be able to roll a reservation to fair weather when there is availability. Half weather (RAIN ONLY) days will still be charged in full.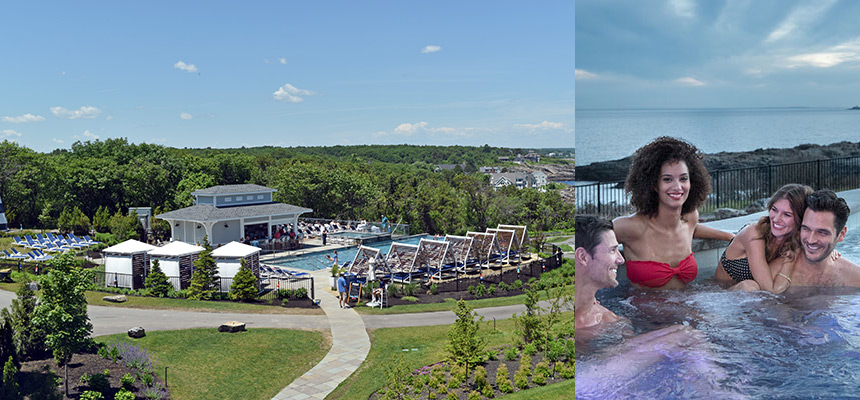 Outdoor Cove Hot Tub
Alongside of our outdoor Family Pool stands our family friendly hot tub. Here at the Cliff House Resort & Spa, safety is a priority especially when it comes to children. The temperature is preset to a kid safe level, allowing them to submerge themselves in the warm tidal pool. Overlooking, North Point Lawn you see across the Atlantic Ocean and local towns such as Wells and Kennebunkport. The Family Hot tub is open from 11AM-7PM. Like our fellow Atlantic Ocean our Hot Tubs are all Salt Water.
Indoor Pool
Taking a dip never goes out of season here at the Cliff House Resort. Located on the 4th floor right across from our Nubb's Lobster Shack our Indoor pool consists of two lanes as well as room for recreational swimming. Stay warm during our winter season by never stepping outside! Fluffy, absorbent towels are provided. Like our fellow Atlantic Ocean our pools are all Salt Water.
Indoor Hot Tub
Navigated on the 4th floor across from Nubb's Lobster Shack enjoy our indoor hot tub. Be able to relax within a full sized Hot tub while overlooking the Atlantic Ocean during any season. As well as being open to all ages it is handicap accessible. It offers the perfect retreat after a busy day of sightseeing or shopping, and is the perfect therapy to lift your spirits on a rainy day or refresh your sore muscles. Like our fellow Atlantic Ocean our Hot Tubs are all Salt Water.