CELEBRATE ART AT CLIFF HOUSE
While Cliff House was being constructed during the late 1800's, Oqunquit was captivating an eclectic array of artists drawn to its natural beauty and charm. Word spread about its romantic scenery and the destination soon evolved as a summer respite for big city artists to express themselves on canvas and in theater, transforming this beautiful place by the sea into an "Artist Colony". Today, Cliff House has created The Gallery as its own canvas to highlight and pay homage to the talented artists abound. Enjoy your journey through the passageway and immerse yourself in the art.
Cliff House is honored to feature a signature entrance to The Gallery with art from Ogunquit Museum of American Art. The museum is minutes from the Cliff House and can be enjoyed from May 1 through the fall. Cliff House is honored to showcase Henry Strater's art at the signature entrance to The Gallery, on loan from Ogunquit Museum of American Art (OMMA). OMAA is closely tied to one of the earliest art colonies of the American modernist era. The museum honors founder Henry Strater's vision to preserve and showcase American art by mounting innovative modern and contemporary exhibition programs from May through October. OMAA showcases modern and contemporary art with rotating exhibitions and a permanent collection of more than 3,000 works. The three-acre seaside sculpture garden and grounds offer space for contemplation. Plan a visit, just a short walk from Ogunquit's Perkins Cove.museum, just minutes from Cliff House. Visit https://ogunquitmuseum.org/ for the full array of exhibits for the season.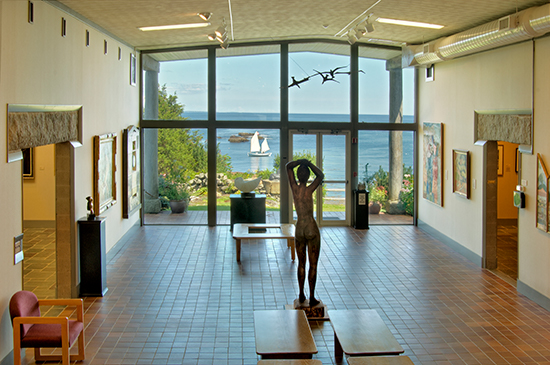 The Gallery is curated by Chris Caraviello of the Van Ward Gallery, the premier regional dealer in contemporary and period fine art, offering the best of the Ogunquit Art Colony. The Gallery is open to the public, and can be found on the lower reception, just below the main entrance adjacent to The Tiller restaurant and Tidemark lounge. The Gallery is currently showcasing more than 50 art pieces from local artists in a variety of mediums. Enjoy scheduled art tours or request a private tour by contacting Van Ward Gallery directly. Our onsite curator is also available to offer tours to groups or individuals, based on appointment. Please contact Chris Caraviello of the Van Ward Gallery, [email protected]
Currently on display at Cliff House Maine:
VAN WARD COLLECTION
Charles Woodbury
(1864-1940) Born in Lynn, Massachusetts, Mr. Woodbury while a young undergraduate at Massachusetts Institute of Technology, became the youngest member of the Boston Art Club . After graduation in 1886 from MIT with degree in Mechanical Engineering, Woodbury had great success painting up the New England coast and in the towns and beaches of Nova Scotia and exhibiting the results. From January to June 1891 he was a pupil of the Académie Julian in Paris, after which he went to Holland, where he studied the techniques of the modern Dutch painters. Upon his return to New England he settled in Boston for his winter studio and spent his summers in the small fishing village of Ogunquit, Maine. There he founded one of the most successful of the summer art colony schools where he was one of the most sought after teachers of his generation. Woodbury maintained a strong and consistent vision in his more than fifty years of professional life and became a master of compositions of the coast and sea. His many on-the-spot sketches and etchings produce a sense of motion through quick, sure-handed strokes, many which he transfers to canvases. Seeing and understanding movement was fundamental to his art and teaching, and is reflected in his own maxim: "Paint in verbs, not nouns." He died on January 21, 1940 in Jamaica Plain, Massachusetts. Woodbury engaged in over 100 solo exhibitions throughout his career, and was included in all of the major invitational and juried shows throughout the country. His work may be found currently in The Art Institute of Chicago, The Museum of Fine Arts, Boston, and New York's Metropolitan Museum of Art among many others.
• Fair Skies
• Grandswell
• Bakers Narrow Cove
• Carved Snowdrift
• Shore House with Dory
• View of Portsmouth
• Portsmouth from Garrish Island
• Portsmouth Harbor
• Chauncey Creek
• Saco River
• Cove in Winter
Yasuo Kuniyoshi
(1880 – 1953) Mr. Kuniyoshi, born in Japan, came to the United States in 1906, where he attended the Los Angeles School of Art. In 1910, he moved to New York where he attended the National Academy of Design, the Robert Henri School, the Independent School, and the Art Students League with Kenneth Hayes Miller. Later he became a teacher at the league. At the invitation of Hamilton Easter Field, he spent several summer in Ogunquit, Maine where Field was the founder of a Perkins Cover art school. Primarily known as a 'modernist' artists, his works were often based upon imagery and symbolic motif. His depictions were often somber landscapes and sensuous depictions of female human figures.
• Showers
George Carpenter
(1928-2006) Living most of his life in Maine, Mr. Carpenter was an Impressionist-style landscape painter who was known primarily for his work with watercolors and to a lesser extent with oil medium. His work largely depicts maritime and woodland themes. Carpenter moved to Ogunquit in 1963 and opened his own gallery in Perkins Cove in 1983 where he became part of the historic art community. He was seen painting outside his studio regularly and was a fixture in The Cove until his death. His work reflects a deep love and appreciation for New England and the Maine shore.
Carpenter was a prolific painter and was an active member of the Rockport Art Association. He has been exhibited widely in the U.S., Canada and abroad.
• Dry Dock
Anne Carlton
(1878-1968) Ms. Carlton was born in Atkinson, New Hampshire and was educated at the Mass Normal Art School in Boston, Vesper George School of Art, and Harvard university. Wanting to remain modern and current in her artwork, she believed in constant learning. She studied with Charles H. Woodbury in Gloucester, MA in 1915 and Ogunquit 1027-29. She also studied sculpture at the Ecole d'arts in Paris and took private lessons from Bernard Karfiol and Carl Nelson in 1931. At the end of her career she was called an Abstract Expressionist painter. She is best known for her beach and WPA scenes in Gloucester, Rockport, Ogunquit, and Portsmouth, NH.
• Perkins Cove Ogunquit
Richard Lahey
(1893-1978) Mr. Lahey was known as a versatile painter with his range including landscape, portraits and still life and covered both traditional and abstract styles. Prior to an 18-month stint in the Camouflage Corps of the Navy during World War I, Lahey studied at the Art Students' League in New York under Robert Henri, a member of the "Ash Can School." He also studied under Kenneth Hayes Miller and George Bridgman and spent several summers studying in France, Germany, Italy and Spain. Strangely the Lahey originally entered the professional art field not by producing "fine art" but by way cartooning, drawing caricatures of famous contemporaries. He was a successful free-lance artist for the old New York World Sunday Magazine and for the New York Times. But Lahey seriously began his career as an artist after the World War by establishing a studio and showing watercolors and paintings in his native Jersey City, N.J. Teaching always accompanied his painting career. In 1921 he joined the faculty of the Minneapolis School of Art. Two years later he was appointed to teach at theucher CArt Students' League, a position he held until he became the fifth principal of the Corcoran in 1935. In 1937, Lahey began a 23-year affiliation with Goollege as a professor of fine arts. The artist was a former member of the Virginia State Art Commission. He also belonged to the American Society of Painters, Sculptors and Gravers, and the Washington Society of Artists. Lahey's work has been featured at art museums in New York, Boston, Baltimore, Brooklyn, Toledo, and Detroit, and at the Library of Congress.
• Abstract Cove
Panos George Ghikas
(1924-2012) Born in Malden, MA, Mr. Ghikas was educated at Yale University where he received BFA and MFA degrees. As a Fulbright Fellow he studied at the Akademie Der Bildenden Kunste in Stutgart, Germany. A recipient of several important awards for his art, Ghikas also was an educator at many prestigious institutions includes the Museum School, Massachusetts College of Art, Brown University, and the Rhode Island School of Design. Though his preferred medium in executing his modernist imagery painting was egg tempera, Ghikas was also a master glider particularly famous for a mural in gold leaf executed for the legendary restaurant windows atop the fated New York World Trade Center.
• Forms Along the Shore
• Seascape
Edwards Betts
(1920-2008) Born and reared in Yonkers, New York, Mr. Betts is regarded as one of the greatest artists of his generation. His paintings have been collected by virtually every major museum in the U.S. and have been widely exhibited internationally. He was a lifetime summer resident of Maine. A respected professor emeritus from the University of Illinois, Betts's work has constantly garnered critical acclaim. He is the author of several books on techniques in "water media" including noteworthy Master Class in Watercolor. Throughout his life he painted in two separate styles. His abstract work mostly being shown in New York and his traditional, yet equally complex compositions in watercolor exhibited primarily in Maine.
• Pylons at Low Tide
• Yellow House by Pier
• Tidal River Houses
• Summertime C
• Pier at Low Tide
William Thon
(1906-2000) Born in New York City, Mr. Thon was an American artists noted for abstracted landscape paintings. He joined the Navy and after WWII he won the Prix de Rome, a fellowship in Rome to the American Academy, where he later served as a trustee. In 1947, the year-long study at the American Academy proved highly influential on his career. In 1949 he was voted into the National Academy of Arts. In 1951, Thon received a grant from the American Academy of Arts and Letters. He also taught painting at Ohio University. After extensive travel, he made his home in Port Clyde, Maine.
• Greek Boat
• Off Monhegan
• The Overlook
Reuben Tam
(1916-1991) Born in Hawaii, Mr. Tam was an American landscape painter, educator, and graphic artist. He earned a BA from the University of Hawaii, and also studied at the California School of Fine Art, at Columbia University and at the New School of Social Research in New York City. He taught over 25 years at the Brooklyn Museum Art School and also spent many summers paining on Monhegan Island, Maine. Upon retirement in the 1970s, Tam returned to Hawaii.
• Winter Wave Monhegan
John Laurent
A native of Brooklyn, N.Y., Mr. Laurent grew up surrounded by great art and famous artists. No stranger to the southern Maine coast as his father, sculptor Robert Laurent, helped establish the Ogunquit School of Painting and Sculpture in the first decades of the last century. Through his father, he also knew American Modernist painters Marsden Hartley and Walt Kuhn, who later became his mentor. After studying at Syracuse University (BFA) and Académie de la Grande Chaumiere in Paris, Laurent received his MAT degree from University of Indiana in 1954. Laurent was an instructor of art from an early age having taught at the Ogunquit School in Perkins Cove during summers of 1946-1960. He was also a mentor and an inspiration to generations of University of New Hampshire students where he was a popular art professor for thirty years. Laurent preferred media was acrylics and oils and was well-known for his landscapes and seascapes in which he explored a broad range of technique, experimenting with both realism and abstraction. During his career he gained critical acclaim for his work, which is part of many public and private collections around the US.
• Save the Atlantic Salmon #1
• After Second Storm
Jon Allan Marshall
Born in Quincy, Massachusetts in 1964 and educated at the Massachusetts College of Art, Mr. Marshall works primarily in oils in the "classical tradition" inspired by 17th century Dutch landscape, still life, and portrait painters. His mastery of landscape painting unfurled after his move to Maine nearly 20 years ago to areas close to mountains and seacoast where he receives constant inspiration for his work. Recognized for his ability at an early age, Marshall was one of the youngest ever Copley Master honored by Boston's Copley Society of Art. Recently he received the Alden Bryan Memorial Award for traditional landscape in oil from the CSA. A serious and productive artist, Marshall's works are widely exhibited throughout the United States.
• Owl's Head Maine Sunrise I
• Owl's Head Maine Sunrise II
• (Piece Untagged)
Jay Hall Connaway
(1893-1970) A native of Indiana, Mr. Connaway studied early in his career at the Art Institute of Indianapolis and at the Art Students' League with William Merritt Chase. After military service in the first World War, he stayed on in Europe to study in Paris at the Julia Academy and L'Ecole des Beaux Arts. Returning to the US, Connaway spent several years painting on Head Harbor Island, Maine learning to depict the many moods of the sea. After many successful one-man shows in New York City and another several years painting in France, he returned to the United States during the perilous time of the Great Depression. Seeking a refuge where he could paint undisturbed Connaway moved his family to Monhegan Island where he continued to develop confidence as a painter within its art community. Eventually he received the praises of art critics being called "the master sea painter of his generation." During this time, he also founded Connaway's Monhegan School of Art. After many years on his beloved island he moved to Dorset, Vermont in 1947 where he painted and taught until his death. Collected extensively particularly in the Northeast, Connaway's works are found in many public collections such as the Museum of Fine Arts Boston, The Portland Museum of Art, and the Farnsworth Art Museum among others.
• Crashing Wave at West Chop
• Winter Sea
Clarence Kerr Chatterton
• Preparing Dory
CELEBRATE SCULPTURE GARDENS
Curated by June LaCombe
June LaCombe specializes in sculpture and shows the work of artists from New England. Her exhibitions demonstrate how sculpture can animate the land and celebrate place. For over thirty years, she has helped clients build their art collections as she oversees exhibitions, sales, delivery, placement and installations of sculpture. Feel free to meander the grounds at Cliff House and call upon June LaCombe for advise, artwork, and to place and curate art at your home. June LaCombe selects sculpture for exhibitions and consults with individuals building their collections. Cliff House is honored to host June's work. June collaborates with clients purchasing their first piece of sculpture and oversees commissions to add work to some of the finest sculpture collections in the country. She assists with cataloging and appraising collections as well. At her home office, LaCombe maintains portfolios for 40 artists from the region—providing a resource for landscape designers, architects, and individuals. For inspiration, clients can review photographs and slides of sculpture in a variety of styles and mediums, including large-scale site-specific public arts projects. Increasingly, LaCombe helps clients find public sites for their private collections and oversees the process of de-accessioning individual pieces of sculpture to nonprofit organizations.
Mark Pettegrow
I am concerned with edges in my work. An edge faired to a sweet line. The sweep of a form poised somewhere on the edge between the known and the unknown, between memory and imagination. The Tides Series is showcased at the Cliff House.
It is this edge of recognition that I find compelling.
I am interested in exploring beauty and desire in form, with the idea that these formal elements can still have relevance in a world where they have either been somewhat trivialized or overly sexualized.
I am intrigued by the answers to questions such as: What causes an object to resonate? How can an inanimate object become an object of our desires, a beacon into our past, or a vessel for our dreams? How does a beautiful object become eloquent, or a perfected line lyrical?
As an artist, I try to mine memories to distill them into new forms. My childhood summers were spent on a coastal farm in Maine, long settled and long past its prosperity. It was a farm built in another century plus two. The house was neglected but loved well past its prime. The barns and outbuildings, unused for decades, were receding back into the earth. Surrounded by beautiful fields, woods and shoreline, I also found beauty in the farm's decay. In wood silvered, slivered and split, the layers of paint having been peeled by two hundred years of summer's sun and winter's wind. There I discovered objects crafted for purposes unknown, the forms simple and clear, evoking the past in the patina that wear and rust give to the forgotten tool. This is the world that still intrigues me, defining the forms I try to explore. With the formal tools of an artist such as line, texture, and edge, I try to distill these remembered simple forms into objects that quietly resonate. The calyx, shell or spade reemerge in abstracted form, honed and faired to perfection, allowing the natural texture and surface patina to reflect against the polish and shine of a true faired edge.
The difficulty lies in maintaining the simplicity and the resonance of the forms. The balance, arc, and velocity of the edges define the pieces, while the deeply worked and honed surfaces are a result of searching out that sweet edge.
Jordan Smith
Stone and I have a long and loving relationship. From when I first developed the ability to pick things up and put them down, I have been playing with rocks. Over the years this became an artistic obsession, and I'm still learning new ways to manipulate and communicate with the material. Whether it is a large installation or a small piece, each project has its own unique challenges and rewards. I try to harness the raw power and beauty of the stone's natural state as an integral part of my work. Listening to the stone is important to the harmony of my process. I work with the stone intuitively rather than forcing it to become something it does not want to be. In the end, the stone is transformed into a new state that evokes questions in the viewer and invites them to explore its mystery.
CELEBRATE LOCAL ARTISTS
We have multiple other art installations around our property beyond The Gallery, all from Maine artists or inspired by Maine's coast. We feature giclèe prints from Dana Heacock and photography prints from Jack Duford adjacent to The Gallery. As you explore Cliff House, we are privileged to showcase other artists including Amy Kelley at Nubb's Lobster Shack, and Erin McGee Ferrell in the Ledges Gallery.
Erin McGee Ferrell
Classically trained as an oil painter, Erin McGee Ferrell continues to build upon twenty-five years of her profession as a residential and corporate artist. Always having maintained an interest in the merging of science and art, Erin incorporates her Maine surroundings literally into the layers of her contemporary works. "Life shows us a level of complexity and beauty in science that isn't often translated to visual expression through the arts." - Erin McGee Ferrell
Erin is a recipient of a Maine Arts Commission Grant 2017, "Art and Chemotherapy", and a member of The National Organization for Arts in Health. Nationally recognized, McGee Ferrell's paintings are collected by Private and Commercial institutions, including TD Amertrade, AtlantiCare New Jersey, Jones Lang LaSalle Americas, INC. Philadelphia, The Episcopal Diocese of Boston, the CEO of Royal Caribbean Cruise Lines, professional hockey player Kimmo Timonen, and America's Cup Winner – Robert James Gale. Her work has been highlighted in Arnot Museum, NY and The Wausau Museum of Contemporary Art, WI. She is a graduate of Mount Holyoke and University of the Arts Philadelphia. McGee Ferrell has studied at Pennsylvania Academy of Fine Arts, University of Louisville in Italy, School of International Training in Nigeria, and Maine College of Art.
Cliff House is honored to display Erin McGee Ferrell's art in collaboration with Venn and Maker Gallery, in our Ledges Gallery. Her Maine oil paintings can be purchased through Venn and Maker Gallery by contacting [email protected]
Casco Bay Ships
Bridge of Dreams
Cows and Planes
Painted in Plain Air Spurwink Farms
Cape Elizabeth
Dana Heacock
Dana Heacock is a Maine artist best known for his paintings for the annual Abacus poster calendar. His fine art reproductions on paper and canvas are on permanent display at Mercy hospital in Portland, at InterMed in the Portland area and in other medical buildings from Biddeford to Virginia. They were exhibited for one year at the Dana Conference center in Portland. More of Dana's work can be seen locally at Abacus in Ogunquit.
• Scenic Lookout
• Nubble Lighthouse
• Harraseeket Harbor
• Beach Stones.
• Wiscasset Buoys
• Done For The Day
Graciela Castro
• Memories of the Cliff House
Jack Duford
"Life on the Maine coast is the major influence on my work. Bringing the play of water and light to life through my lens is the goal. Childhood summers on the Maine coast led me to making my home in Perkins Cove decades ago. There, the community of painters taught me how light could transform the ordinary to extraordinary, and the patience to wait for it. The fisherman provided their vessels, humor, and the occasional great meal – thanks. Sailing on the historic Maine Windjammer fleet is amazing, each schooner a moving work of art, some over a century old. I try to take you along and dream of the next adventure as the anchor is raised and the sail set. Having received both local and national recognition, the best is from the person that is taken away by these images. Working from my studio in Perkins Cove, these Fine Art Giclee prints made locally and enjoyed globally."
• Fast and Able
• Skiffs
• Boothbay Morning
• Fairwinds
• Wyeth
• Peaceful
• Working Skiffs