CELEBRATE ART AT CLIFF HOUSE
While Cliff House was being constructed during the late 1800s, Oqunquit was captivating an eclectic array of artists drawn to its natural beauty and charm. Word spread about its romantic scenery and the destination soon evolved as a summer respite for big-city artists to express themselves on canvas and in theater, transforming this beautiful place by the sea into a true Artist Colony. Today, Cliff House has created The Gallery as its own canvas to highlight and pay homage to the talented artists abound. Enjoy your journey through the passageway and immerse yourself in the art.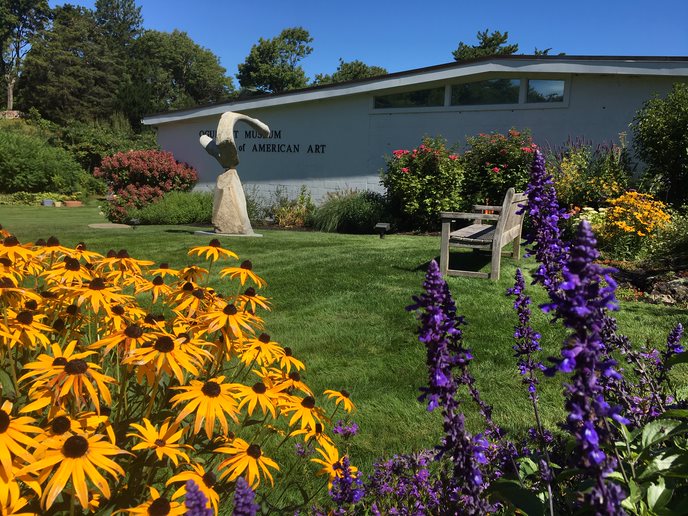 Cliff House is honored to feature a signature entrance to The Gallery with art from the Ogunquit Museum of American Art. The museum is minutes from the Cliff House and can be enjoyed from May 1 through the fall. Cliff House is honored to showcase Henry Strater's art at the signature entrance to The Gallery, on loan from Ogunquit Museum of American Art (OMAA). OMAA is closely tied to one of the earliest art colonies of the American modernist era. The museum honors founder Henry Strater's vision to preserve and showcase American art by mounting innovative modern and contemporary exhibition programs from May through October. OMAA showcases modern and contemporary art with rotating exhibitions and a permanent collection of more than 3,000 works. The three-acre seaside sculpture garden and grounds offer space for contemplation. Plan a visit, just a short walk from Ogunquit's Perkins Cove museum, just minutes from Cliff House. Visit https://ogunquitmuseum.org/ for the full array of exhibits for the season.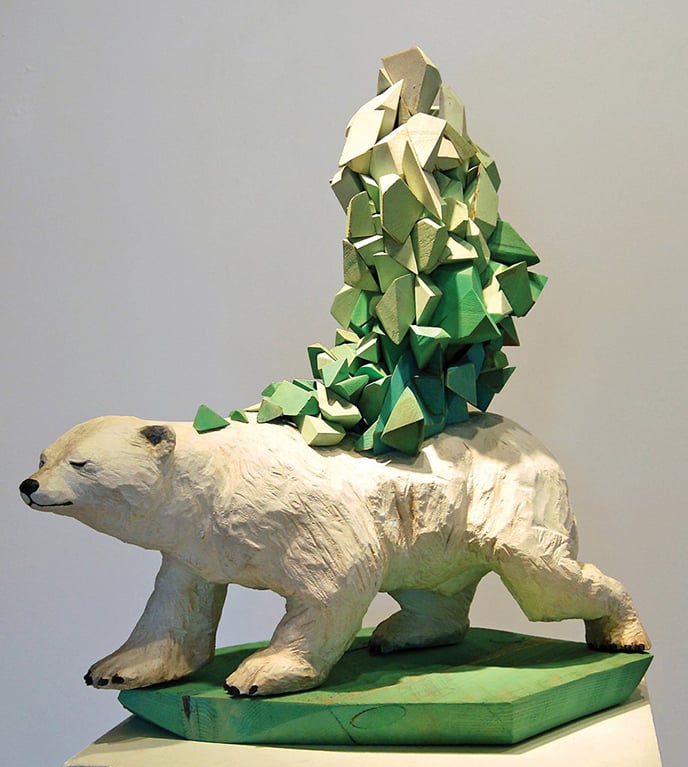 Cliff House is a proud sponsor of the After Party exhibition by Andy Rosen, currently on display at OMAA May 1st-July 5, 2020. After Party posits a unique timestamp on the influence of the Ogunquit art colony and the significance of time, place, and community in the history of American art. Rosen's experiential installation casts present-day Ogunquit in relation to the 20th-century artists who comprised the creative collaborative that transformed a vision for American modernism and the community of Ogunquit as we know it today.
---

The Gallery is curated by Chris Caraviello of the Van Ward Gallery, the premier regional dealer in contemporary and period fine art, offering the best of the Ogunquit Art Colony. The Gallery is open to the public and can be found on the lower reception, just below the main entrance adjacent to The Tiller restaurant and Tidemark lounge. The Gallery is currently showcasing more than 50 art pieces from local artists in a variety of mediums. Enjoy scheduled art tours or request a private tour by contacting Van Ward Gallery directly. Our onsite curator is also available to offer tours to groups or individuals, based on appointment. Please contact Chris Caraviello of the Van Ward Gallery, [email protected].
Artists currently showcased at The Gallery:
CHARLES WOODBURY (1864-1940)
Born in Lynn, Massachusetts, Mr. Woodbury while a young undergraduate at the Massachusetts Institute of Technology became the youngest member of the Boston Art Club. From January to June 1891, he was a pupil of the Académie Julian in Paris, after which he went to Holland, where he studied the techniques of the modern Dutch painters. Upon his return to New England, he settled in Boston for his winter studio and spent his summers in the small fishing village of Ogunquit, Maine. There he founded one of the most successful of the summer art colony schools where he was one of the most sought after teachers of his generation. Learn more about Charles Woodbury.
EDWARD BETTS (1920-2008)
Born and reared in Yonkers, New York, Mr. Betts is regarded as one of the greatest artists of his generation. His paintings have been collected by virtually every major museum in the U.S. and have been widely exhibited internationally. He was a lifetime summer resident of Maine. Learn more about Edward Betts.
JON ALLAN MARSHALL
Born in Quincy, Massachusetts in 1964 and educated at the Massachusetts College of Art, Mr. Marshall works primarily in oils in the "classical tradition" inspired by 17th-century Dutch landscape, still life, and portrait painters. His mastery of landscape and seascape painting progressed after his move to Maine in 1993 to areas close to mountains and seacoast where he receives constant inspiration for his work. The artist lives with his family in the Maine village of Denmark. Learn more about Jon Allan Marshall.
---
CELEBRATE SCULPTURE GARDENS
Curated by June LaCombe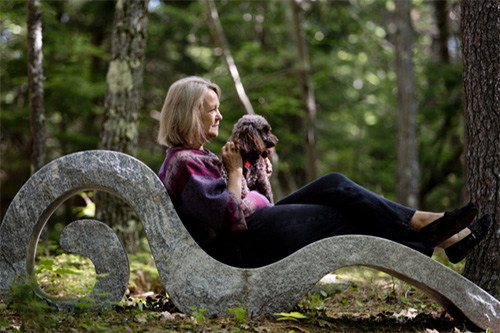 JUNE LACOMBE
June LaCombe is an independent arts consultant specializing in sculpture in the New England region. She curates and sites exhibitions of sculpture in Maine and oversees sales, delivery, siting, and installations for clients throughout the country. Her outdoor shows feature sculpture suited for gardens and landscapes in a variety of mediums including granite, bronze, wood, stoneware, and steel. Interior sculpture is included in exhibitions at Hawk Ridge Farm and shown in her country home. Learn more about June LaCombe.
MARK PETTEGROW
"I am concerned with edges in my work. An edge faired to a sweet line. The sweep of a form poised somewhere on the edge between the known and the unknown, between memory and imagination. The Tides Series is showcased at the Cliff House. It is this edge of recognition that I find compelling. I am interested in exploring beauty and desire in form, with the idea that these formal elements can still have relevance in a world where they have either been somewhat trivialized or overly sexualized." Learn more about Mark Pettegrow.
JORDAN SMITH
Stone and I have a long and loving relationship. From when I first developed the ability to pick things up and put them down, I have been playing with rocks. Over the years this became an artistic obsession, and I'm still learning new ways to manipulate and communicate with the material. Whether it is a large installation or a small piece, each project has its own unique challenges and rewards. Learn more about Jordan Smith.
---
CELEBRATE LOCAL ARTISTS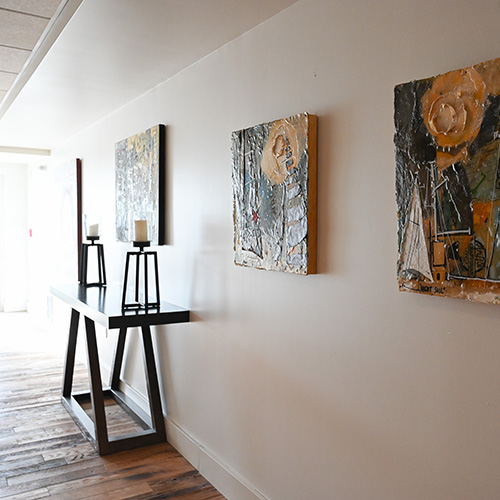 We have multiple other art installations around our property beyond The Gallery, all from Maine artists or inspired by Maine's coast. We feature giclèe prints from Dana Heacock and photography prints from Jack Duford adjacent to The Gallery. As you explore Cliff House, we are privileged to showcase other artists including Amy Kelley at Nubb's Lobster Shack, and Erin McGee Ferrell in the Ledges Gallery.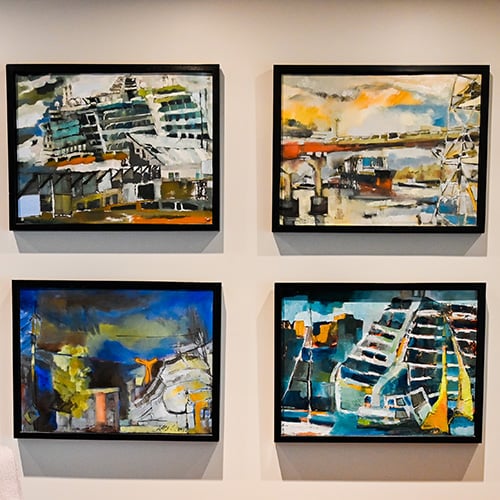 ERIN MCGEE FERRELL
Classically trained as an oil painter, Erin McGee Ferrell continues to build upon twenty-five years of her profession as a residential and corporate artist. Always having maintained an interest in the merging of science and art, Erin incorporates her Maine surroundings literally into the layers of her contemporary works. "Life shows us a level of complexity and beauty in science that isn't often translated to visual expression through the arts." — Erin McGee Ferrell. Learn more about Erin McGee Ferrell.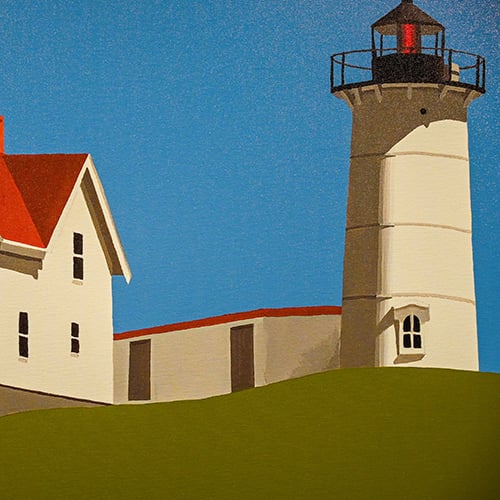 DANA HEACOCK
Dana Heacock is a Maine artist best known for his paintings for the annual Abacus poster calendar. His fine art reproductions on paper and canvas are on permanent display at Mercy hospital in Portland, at InterMed in the Portland area and in other medical buildings from Biddeford to Virginia. They were exhibited for one year at the Dana Conference center in Portland. More of Dana's work can be seen locally at Abacus in Ogunquit. Learn more about Dana Heacock.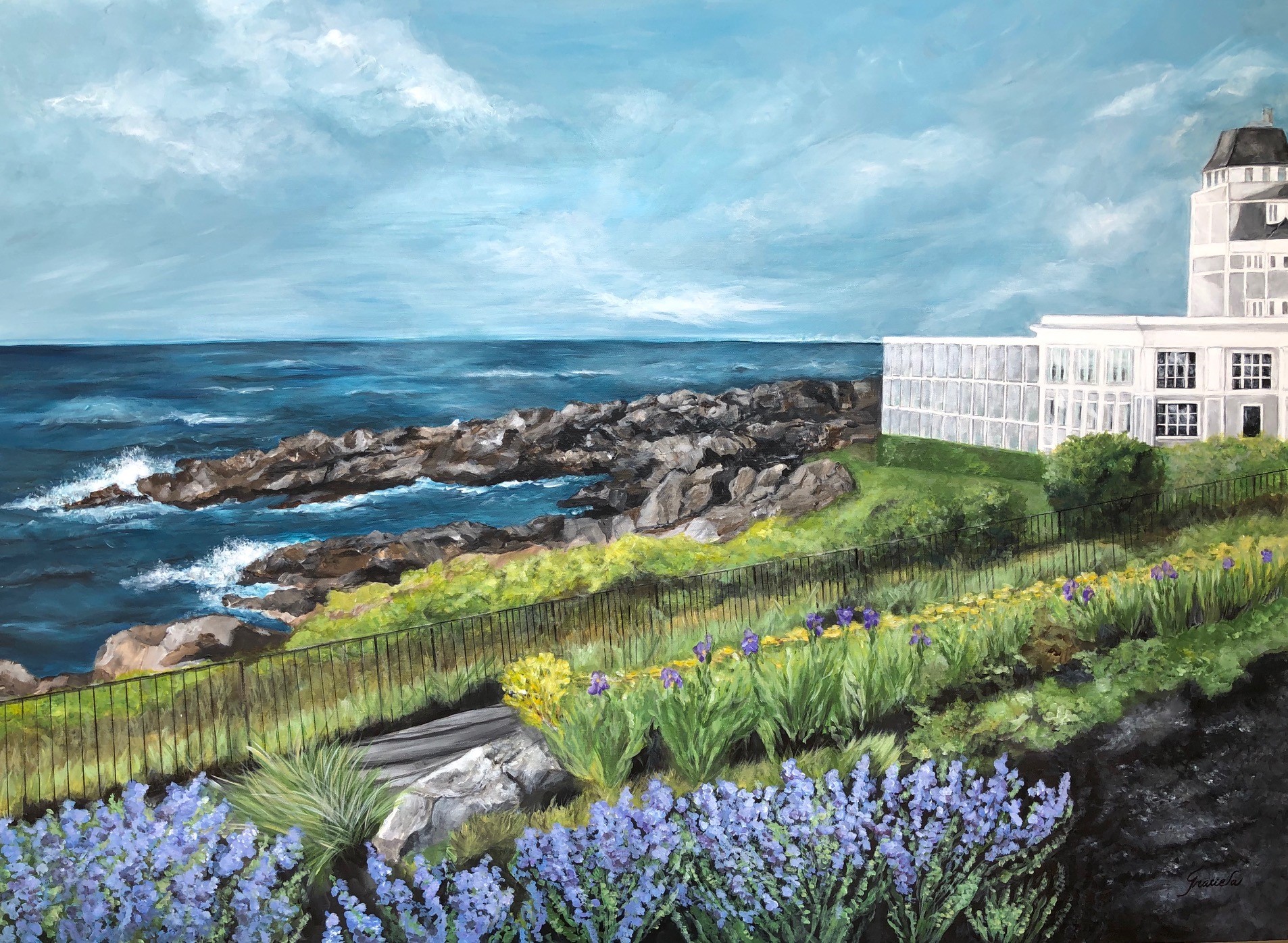 GRACIELA CASTRO
Graciela was born in Buenos Aires, Argentina. It is not coincidental that the artist goes by the name Graciela. It is that very grace that is evidential on every canvas, in every color, with every brushstroke. Graciela was commissioned to paint a small version of the painting "Memories of Cliff House" by her friend as a present for his wedding. He had visited the hotel on numerous occasions and decided to get married here on property. Graciela then decided to create a larger replica of her original painting, which is now permanently on display here in our Gallery. Learn more about Graciela Castro.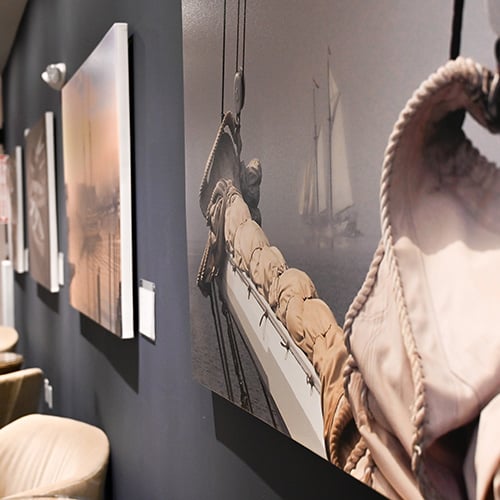 JACK DUFORD
"Life on the Maine coast is the major influence on my work. Bringing the play of water and light to life through my lens is the goal. Childhood summers on the Maine coast led me to making my home in Perkins Cove decades ago. There, the community of painters taught me how light could transform the ordinary to extraordinary, and the patience to wait for it." Learn more about Jack Duford.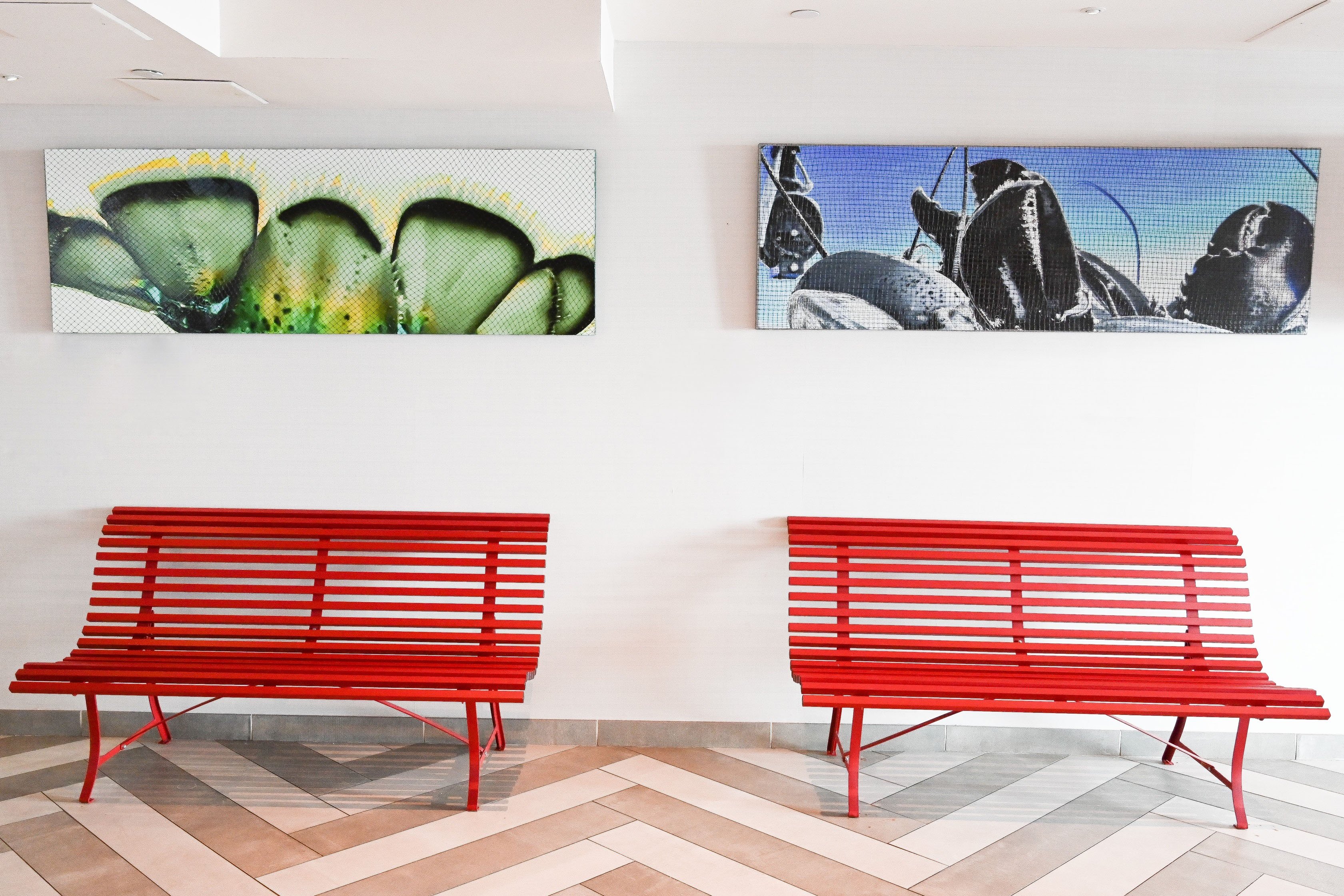 AMY KELLY
In 2015, I asked Captain Bo Kinsman if I could go to work on his Lobster Boat, "Bittersweet", harbored in Perkins Cove. His stemman Rich was thrilled as his year venture was coming to a close and a replacement stemperson was necessary. Rich began training me as if I were "that person". Indeed the story of peace, healing, and an experience in nature beyond my wildest dreams begins. Captain Bo over time enjoyed my photo taking. Learn more about Amy Kelly.